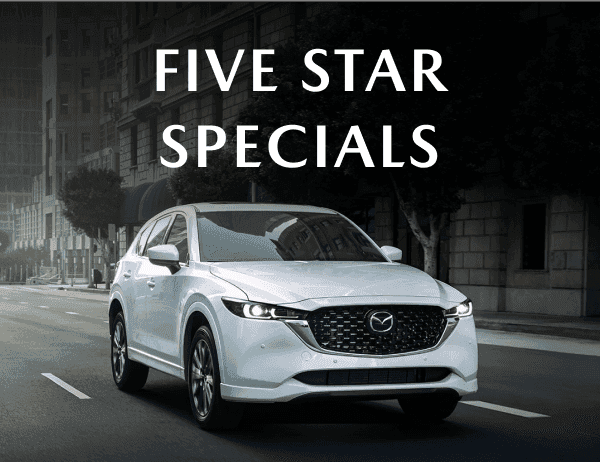 Five Star
Specials
Five Star has the vehicle at the price that you are looking for. We will make it easy for you to find.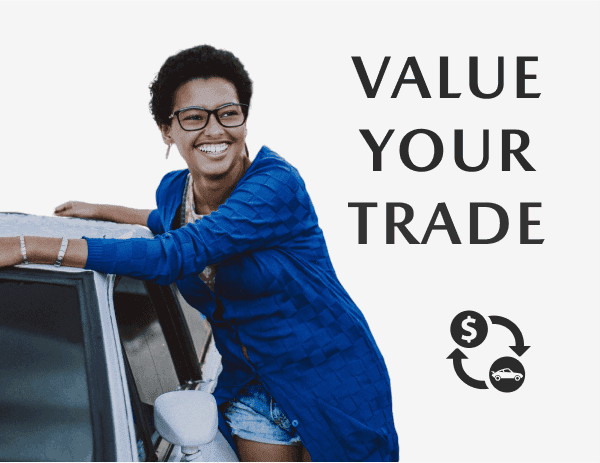 Value Your
Trade
Trade-in and trade-up with one of your old trucks or vehicles for a brand new vehicle.
Five Star Mazda Testimonials
A sincere THANK YOU to all our favorite customers!
I bought my first Mazda, a 2021 CX-5 Carbon Edition, from Five Star Mazda back in 2021, and it was a great experience. Everyone in every department was wonderful and helpful, and they helped me drive away in my dream car. I have had all my services with their service department, and Rich Cook has always been super awesome to work with. Dorothy Lamar was my sales person, and even though she isn't there anymore, she was an amazing salesperson to work with. Everyone at Five Star is always great to work with. Once it's time to trade in, it will be my first stop.
I had David Richardson as my salesman, he was awesome. He is very sweet, and very knowledgeable of the information about the Mazda. I was very impressed with him. He actually sat in the car with us and showed us how to do/work everything. I would definitely ask for him again if I ever buy another car. Thanks
Cathleen was wonderful to work with. She made our buying process seamless and made it so easy and enjoyable. We love our new Mazda CX-9 signature. Cathleen went the extra mile to locate the suv we wanted and had it shipped from another dealership. Also, we would like to thank Ms Dorothy for showing us how to use some of the features we didn't know it had. The entire process was wonderful.
Extremely helpful and friendly. No pressure. Ms . Dorothy went out of her way to help us learn about our new car. She was extremely helpful and so nice. She said we could call her anytime we had any questions. Thank you Ms. Dorothy.
Honestly I liked this specific dealership they were fast and to the point I was very happy the whole time and never found myself annoyed or ticked off, I don't have a positive opinion of the five Star brand itself but this dealership was quite nice. I'm very appreciative of Dorthy she was very happy and always had a great attitude. Overall would buy a car again from them!
Was definitely impressed with this dealership. Dorothy was an excellent sales person. She is knowledgeable about the Mazda vehicles and a great sense of humor and personality. Would definitely by from her again. She called me back with information that she promised when she said she would.
I was very impressed with the professionalism of the sales. David was a super excellent sales associate I have never met before. His knowledge, his great attitude towards the potential customer, was very nice. He wasn't pushing, no pressure ( which is very important for us). I recommend him to my friends and colleagues for sure! Thank you very much for helping me find my dream car!
Great customer service and I'm pleased with service and one of the representatives will text you to find out how you are doing and do you need anything at all at your visit great job to this people at 5 star mazda in Macon riverside location
Made purchasing a new car easy and quick. Service was smooth. The fastest process and with no games. Would go back to work with them again!
Rich and his crew does a Magnificent job!I will certainly tell others about bringing there car there for service. Leep up the good work Rich Cook and crew.
We went there looking to test drive a new CX-9, and really loved the car we drove. The sales associate we talked with, Dorthy, showed us one of the last brand new 2020 models they had left and was able to get the price far below MSRP because they wanted to clear out the remaining 2020 inventory. Ended up with a really nice CX-9 Grand Touring model that the wife absolutely loves that was right at the amount we were wanting to spend. Would definitely recommend buying a vehicle from them.
Excellent service every time! Rich is awesome and always professional and attentive. I highly recommend Five Star Mazda service department for all your service needs.
Rich is always professional and direct. He is not pushy about recommendations. He goes out of his way to make sure I am comfortable while waiting. I highly recommend this place
I had a hassle free experience which was worth the hour drive from covington ga. My sales person was Dorothy Lamar and she was very knowledgeable and professional. She made my buying experience easy from beginning to end and Dorothy Lamar deserves 10 stars in my opinion for the excellent service I received in purchasing my vehicle
The service was excellent and the folks we interacted with were helpful and courteous Definitely where we will bring our 2 Mazda's for service
I am the owner of my third Mazda bought from Five Star Mazda. For eight years+, Rich has serviced my vehicles. He is always helpful, thorough and a great person in his professional and personal capacities. Thank you for your good work, Rich.
As always, the service was prompt, courteous and very professional. I've gotten my oil changes there several times and it is always a very good experience.
Our salesperson, David Richardson was the best! He answered all our questions as well as provided us step by step instructions learning about our car.
Great selling experience. Ms. Dot really worked hard to get me into the car of choice. A 2020 Mazda 6 Grand Touring. I am happy.
Wonderful experience every time I have my car serviced here. I am treated well by the service staff, and David Richardson always goes out of his way to have a great conversation with me. This time I interacted with Nikki as the service manager, who was quick to answer my questions and give me the prices I needed for a future visit, for a tune-up and a set of new tires. I really appreciate this service!
Great experience. David Richardson was very knowledgeable and extremly helpful to me and explained in detail the features of the car before my test drive. David, Sean and Danny were great team when it came time to purchase. I will definitely recommend the great team there.
Stopped by for An oil change and tire rotation. Service a fast, friendly and affordable!! Would highly recommend! Rich in the service department was knowledgeable, friendly and professional. You can tell their customers are like family to them.
Service is fantastic. Rich did research to solve my issue, consulted with Mazda to ensure repairs would be covered under warranty, arranged for a loaner, got me in and out on time. Many thanks!!
As always the service was excellent. Rich always treat me with such professional and my wife said her wait times are never long. In and out within an hour or two
Five Star Mazda in Macon has an excellent service department. The staff is very friendly and welcoming. The manager goes above and beyond to help his customers. I do not let anyone else work on my CX-5!
Five Star Mazda
Macon, GA
3056 Riverside Dr, Macon, GA 31210
Hours
Sales
Monday - Saturday: 9:00 AM - 8:00 PM
Service
Monday - Friday: 7:30 AM - 6:00 PM