IN-DEPTH COMPARISON: 2020 MAZDA CX-5 SPORT VS TOURING
The 2020 Mazda CX-5 is a four-door, five-seater SUV that offers premium performance at a fantastic price. The draw of this car, like most Mazdas, is just how fantastic the fit and finish is on the interior, easily squaring up to other SUVs that cost $5,000 or even $10,000 more. If you're in the market for a CX-5, it can be difficult to choose which trim best fits your lifestyle. Read our guide below to find out what separates the Sport from the Touring trims on the 2020 Mazda CX-5
PERFORMANCE AND SPECS
The 2020 Mazda CX-5 offers fantastic performance and fuel economy across its variants. The Sport, which has a starting MSRP of $24,350, will get 25 miles per gallon in the city, and 31 on the highway. The Mazda CX-5 Touring shares a powertrain with the Sport, so you can expect to experience identical performance and handling in either of these trim levels. Both of these cars offer a hefty 187 horsepower and 186 pound-feet of torque, which will allow you to tow up to 2,000 pounds, which is a pretty fantastic number for an SUV at this price point. Trailering is definitely a strong suit of this car, for those with the occasional towing need, making it a little more versatile than its competitors. The engine in this Mazda is the SKYACTIV®-G1 2.5L DOHC 16-valve 4-cylinder with Cylinder Deactivation, coupled with a 6-speed automatic transmission that features manual shift and sport mode. Both of these trims are equally capable when it comes to power and performance
INTERIOR DIFFERENCES BETWEEN THE SPORT AND TOURING
Many of the most noticeable differences between the Mazda CX-5 variants are inside the cabin. Seats are one place you'll see different features, with the Sport trim level outfitted with manual seat adjustments on both the driver's side and passenger's side seats. While this is one way that the MSRP of this car is kept to exceptionally low, some people will surely appreciate the value of power-adjustable seats, which are available in the Touring trim level. You'll also notice that the climate control is significantly upgraded in the Touring level, offering heated seats in a plush leatherette, as compared to the standard fabric found in the Sport. Both of these vehicles are equipped with a 7-inch touchscreen display, making them both fantastic values when it comes to audio and feature control in an SUV. The Touring has one last bonus— Apple CarPlay and Android Auto integration. While the Sport has two USB inputs in the front, the Touring has four USB inputs— two in the front and two in the back. Interior amenities can be subjective, but the leatherette seats in the Touring alone are easily enough for us to say it's our best value interior option and wins in this department.
EXTERIOR DIFFERENCES AND SAFETY FEATURES
One area these trims differ is in headlight technology. Both of these trims have automatic headlights, but the Touring trim level features upgraded LED headlights that can drastically improve road visibility. Both of these vehicles come with smart brake support that can automatically hit the brakes to try to prevent front collisions with other cars and pedestrians, as well as hill launch assist. All CX-5 SUVs are built with lane departure warning, lane-keep assist, blind spot monitoring with rear cross traffic alert, and Mazda Radar Cruise Control as well, making both of these cars great safety values.
WHICH OF THESE CX-5 TRIMS IS THE RIGHT FIT FOR YOU?
Price point is a huge factor when it comes to these cars. The Touring offers a headlight upgrade and swanky interior materials along with its other upgrades, accounting for the $2,265 difference between these vehicles. For most people, the interior of the Touring model easily justifies the increased price. The Sport variant offers the exact same level of performance, however, for a lot less overall. The Touring is a phenomenal value overall, but the Sport will let you do the same things for a little bit less money down.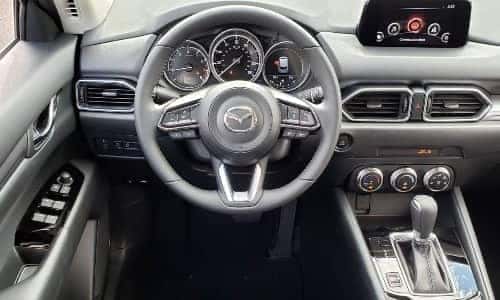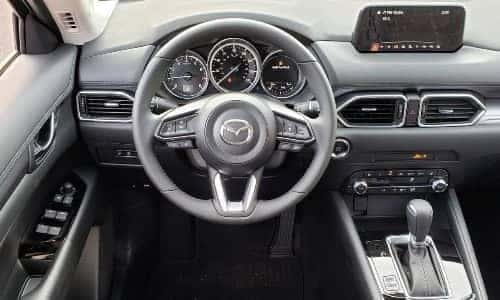 YOUR QUESTIONS, ANSWERED:
WHAT IS MAZDA CX-5 SKYACTIV TECHNOLOGY?
SKYACTIV Technology is the term that Mazda uses to describe its Powertrain and chassis technology suite. These improvements include CVT transmission technology, and high-tensile steel in the chassis, aimed at maximizing power and fuel efficiency in their vehicles.
DOES THE MAZDA CX-5 HAVE A DIESEL VERSION?
The 2020 Mazda CX-5-Signature SKYACTIV-D is a CX-5 with the increased range and torque of a diesel engine. With a starting MSRP of $41,000, this is a great option for drivers looking to maximize SUV performance.
HOW DOES THE MAZDA CX-5 COMPARE TO THE TESLA MODEL Y?
The CX-5 starts at around $15,000- less than the Model Y— you can get a top of the line CX-5 for less than you can get the bottom level Model Y. These cars have similar range and form factors overall, but you'll find there's more cargo space in the CX-5. You'll save more money on fuel in the Model Y, but it'll take you some years to reap that reward.
WHY CHOOSE Five Star Mazda OF Macon?
Here at Five Star Mazda of Macon, we've changed our car-buying experience, so you can pick out a brand new car right from home, and have it delivered to you at no extra charge. We offer services unmatched like other dealerships, like flexible return policies on your new car that last up to 72 hours, so you can be sure your Mazda is the right fit for you. Additionally, we offer lifetime warranties on all new car purchases, allowing you to have the ultimate security and customer satisfaction when buying with us. If you're interested in a new Mazda CX-5, reach out to us, and we'll answer any questions you may have.