WHAT IS THE BEST MAZDA SUV?

If you're looking for a new Mazda SUV, you're in luck! Mazda vehicles are consistently reliable, stylish, and high-performing, and they've just made an exciting new addition to their SUV lineup: the Mazda CX-30. Now more than ever, it can be challenging to choose between the many engine types and form factors offered by Mazda. That's why our team of experts compiled this list of the top Mazda SUV models and their features. Keep reading our Five Star Mazda buyer's guide to help find out which Mazda SUV is right for you!
THE ALL-NEW 2020 MAZDA CX-30
STARTING PRICE: $21,900
View Inventory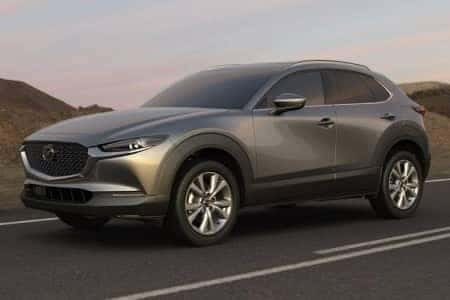 The 2020 Mazda CX-30 is a brand new offering from Mazda with an overall size between the CX-5, the super-popular midsize SUV, and the smallest car in Mazda's SUV lineup, the CX-3. The biggest draw toward the CX-30 over the tried-and-true CX-3 isn't just increased interior space and a redesigned interior with plush new materials: The CX-30 is now the industry leading subcompact SUV when it comes to standard horsepower, with a base offering of 186 horsepower. If you're interested in the SUV that's challenging other manufacturer's flagship vehicles, make sure to take note of this vehicle's fantastic standard features like LED headlights and 45.2 cubic feet of cargo space.
THE 2020 MAZDA CX-5
STARTING PRICE: $24,350
View Inventory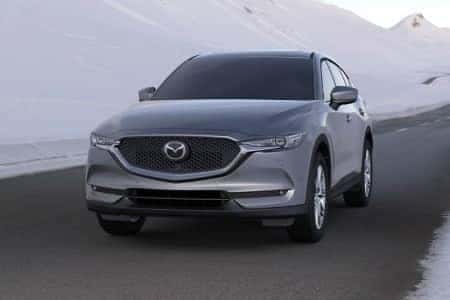 The 2020 CX-5 is one of Mazda's most popular SUVs, and it's one of the most important vehicles to test drive if you're in the market for a new Mazda SUV. This model excels in both style and functionality, at a size most people will find just right. This five-seater has additional space for rear passengers when compared to the CX-3 and CX-30, making it the perfect choice for anyone expecting to have adult passengers in the second row on a regular basis. Enjoy 25 mpg in the city on average, and 31 mpg on the highway in this vehicle, which are fantastic numbers for a vehicle this spacious. The CX-5 is a perfect contender for plenty, offering a great standard horsepower of 187, with the option to upgrade to 227 if you're looking for some extra power.
THE 2020 MAZDA CX-3
STARTING PRICE: $20,390
View Inventory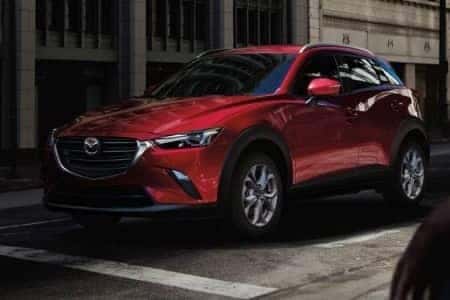 It's likely the 2020 CX-3 would have been our top pick out of Mazda SUVs if the CX-30 hadn't made such a huge impact on the car market. That said, the CX-3 is still one of Mazda's most popular models, offering some unique specifications you won't find in the CX-30. One reason to choose the smaller CX-3 over the CX-30 is the starting price—you can save a cool $1,410 by going for the CX-3. You'll also get slightly better fuel economy on average, with an extra mpg estimated in the city as well as on the highway. If you're looking for a sporty, truly compact car, the 2020 Mazda CX-3 is still the epitome of stylish, fast, and affordable.
THE 2020 MAZDA CX-9
STARTING PRICE: $33,890
View Inventory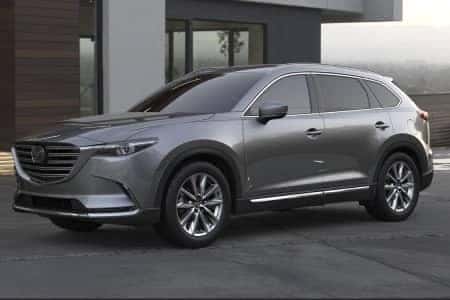 The 2020 Mazda CX-9 is a no-brainer for anyone in the market for a 7-seater. For a phenomenal starting MSRP that makes it under $35,000, you won't find many other manufacturers building vehicles with the same alluring features. Some of the things you can find available on the CX-9 are second-row captain's chairs, smart braking, and a redesigned interior on the Signature edition featuring Nappa leather. The CX-9 has the highest horsepower offering available at 250, making it a great choice for anyone looking for an SUV with a formidable towing capacity.
THE 2019 MAZDA CX-5 SIGNATURE SKYACTIVE-D
STARTING PRICE: $41,000
View Inventory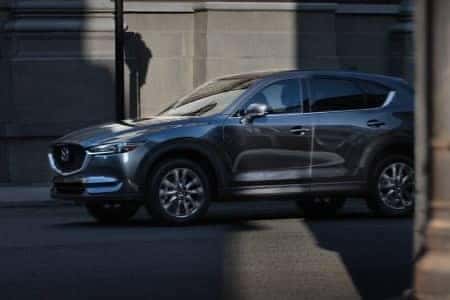 The 2019 Mazda CX-5 Signature Skyactive-D is one of the most unique vehicles Mazda has made available in recent years. This is a diesel-powered SUV—one of the first ones in Mazda's lineup for decades—that offers phenomenal range and great fuel economy compared to its standard octane counterpart. The 2019 Mazda CX-5 Signature Skyactive-D makes it on our list because you can still find plenty of these cars brand-new on dealership lots, waiting to be bought at a great price. While Mazda may have found it difficult to market the diesel CX-5, it still features some of the very best features of the original 2019 CX-5, making it an exceptional value, especially if you were considering purchasing at a higher trim level.
SO, WHICH MAZDA SUV IS BEST?
It can be difficult to choose between SUVs, as they often offer a wide variety of sizes, features, and levels of performance that can appeal more to some people's lifestyles than they do to others. If you're looking for a 7-seater, the CX-9 is a perfect choice when compared to offerings by other manufacturers, but if you had to pick one single model that best represents Mazda's lineup, it has to be the 2020 CX-30. This car is a great size for most drivers, sitting squarely in the not-quite-compact category, and it's got the newest Mazda features, placing it above the already-great-to-drive CX-3.
CHOOSE Five Star Mazda MACON
At Five Star Mazda of Macon, we make buying a new or used Mazda as simple as possible. Our website can help you sort through our vast inventory of new and certified pre-owned Mazda models, so you can see what's available, and even purchase your new Mazda without ever stepping foot inside a dealership. You can even calculate your monthly payments on our website, value your trade, and request financing as well, all from the comfort of your home! If you find the perfect Mazda, we can deliver it to you at no extra charge, so browse our inventory before they sell out!